Current standings 20.00 GMT November 11th 2014:
The Safe Method
-0.79
pt.
(
This includes 1 pt Man Utd. @ 11-2 & 0.1 pt @ 8-1 to win the Premier League as lost money)
The Dangerous Method

+7.35 pts
(This includes 2 pts Man Utd. @ 11-2 & 0.1 pt @ 8-1 to win the Premier League as lost money.)
There are no mid-week selections this week, so I thought I'd afford myself the luxury of a late post. There will be those of you out there who will be screaming at your computer, 'Give me a bet you muppet!' Patience is the key. We can take a loser or two, that's what the bankroll is for.
My current philosophy is, the money is better left in the pocket if there's nothing worth spending it on.
An adage that a lot of football clubs would do well to follow. Many don't and that brings me to the topic of tonight's missive, Financial Fair Play in the Football League, most especially the Championship because it seems that's where a lot of the financial madness is occurring, when you look at the old rules.
Here's a table http://www.financialfairplay.co.uk/latest-news/which-championship-clubs-can-expect-to-receive-a-transfer-embargo- showing the good the bad and the ugly, what they owe and what they don't and the fines they might face,
by Ed Thompson who produced it it for an article he wrote for
wsc.co.uk
Here's another table from financialfairplay.co.uk/financial-fair-play-explained.php
that clarified the existing rules.
However, the meeting that was held on 6th November has ripped these up and replaced them with some new ones which take effect in 12 months time. Clubs will then be allowed to lose £39,000,000 over a three year accounting period before any sanctions are taken. So the small, financially stable clubs have been treated like fools. Whose to say that in three years time another meeting won't be called by the big spenders in order to move the goalposts once more?
The Championship
The FFP rules in place in the Championship in the 2013/14 season can be best explained
through this graphic :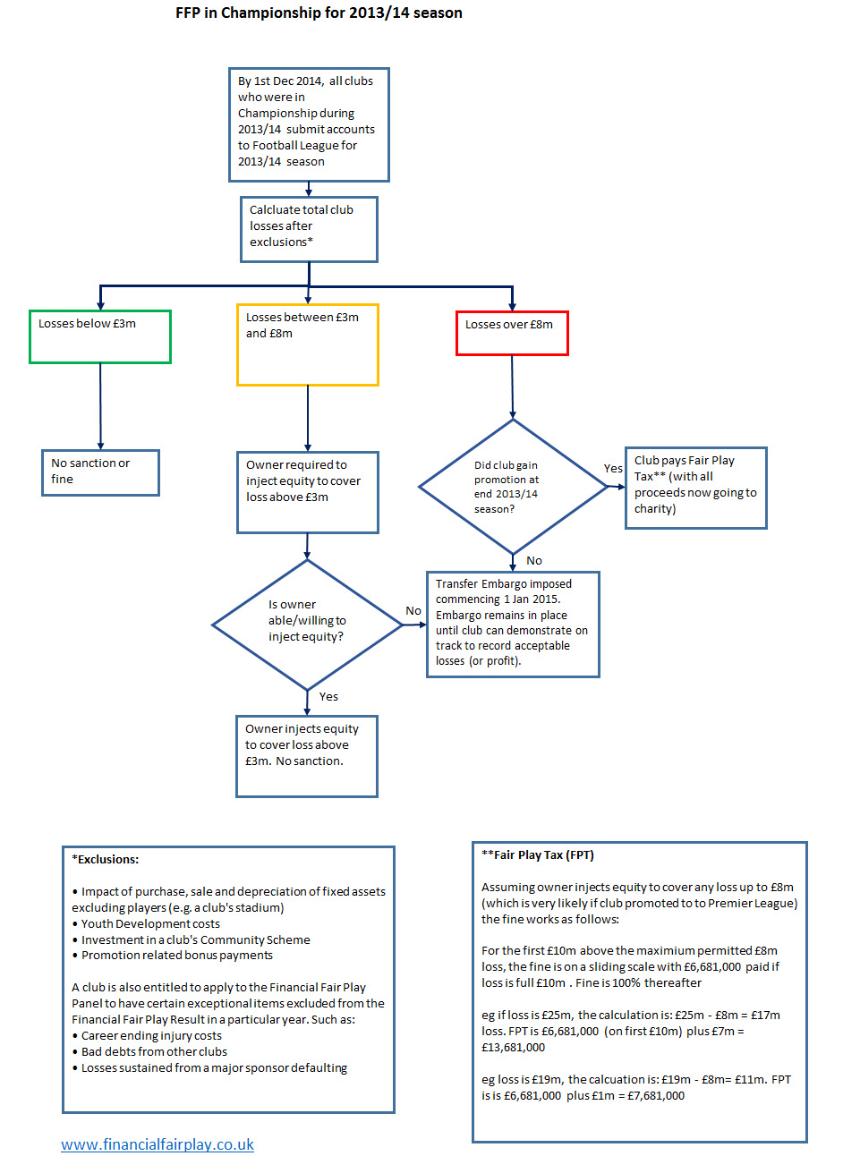 Note:
The newly relegated clubs must comply with the FFP rules in full. During their first December in the Championship, a newly relegated club does not have to submit their accounts for the previous season (i.e. the accounts relating to the season when they were in the Premier League). However QPR, Reading and Wigan will need to submit their accounts for the 2013/14 season to the Football League (and will be hit with a sanction if their 2013/14 accounts show that losses exceeded the permitted thresholds).
Further Reading: Article Ed Thompson produced for the magazine When Saturday Comes:
Once you have read the above pdf article and got a good understanding of the concepts of FFP in the Championship/Leagues 1 & 2, you will probably want to go to the Football League web page dedicated to the FFP rules.
This graphic illustrates the massive punt that QPR took to get into the Premier League. I am only amazed that Tony Fernandes didn't have a heart attack at the play-off final back in May.
If QPR become, as I expect, an established Premier League side, how is the Football League going to make them to pay the fine that will undoubtedly be owed come December?
They are talking of going deeper in debt with an estimated £6,000,000,0000 development of Old Oak. So deep in debt that they will find it very difficult to dig themselves out. It will probably be done by setting up a new company that will lease the ground to the football club. If you want to know how badly that can turn out, just ask Coventry City, Darlington and Walsall fans.
My sportsman's bet of 20,000,000 in play money says that particular development won't go ahead.
Good Fortune Viewers!